Controversial influencer Andrew Tate and his brother have been released from jail in Romania and placed under house arrest for 30 days instead, according to court documents.
The 36 year old kickboxer and his sibling Tristan were released from a detention facility in Bucharest just before midnight local time.
Andrew Tate took to Twitter after his release posting a smiling face emoji and a link to sign up to his website, saying: "Email regarding my release will be sent in 24 hours."
The influencer also posted a video of himself walking around a room while smoking, with the caption suggesting he found "absolute clarity of mind" in prison.
Leaving the facility, Tristan Tate told reporters that "the judges today made the right decision".
"I respect what they've done for me and they will be vindicated in their decision, because I'm an innocent man and I can't wait to prove it," he said.
The brothers then pushed through the crowds to a car with darkened windows and drove off while supporters chanted "Top-G, Top-G", a name many of Andrew Tate's fans refer to him as.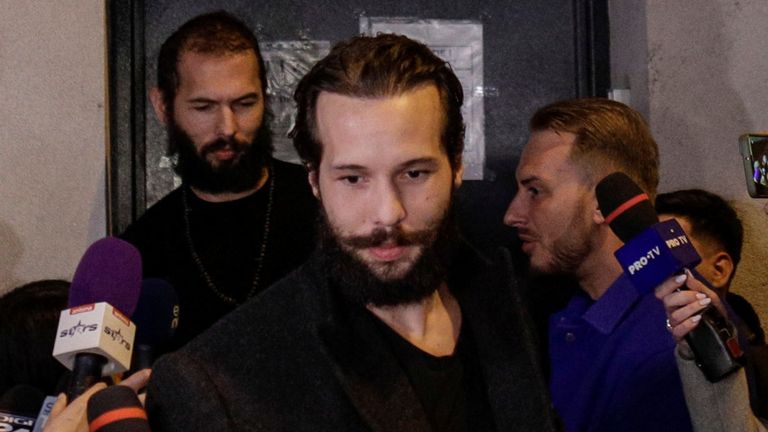 The pair, along with two Romanian women Naghel Georgiana Manuela and Radu Alexandra Luana, are being investigated by prosecutors in the capital Bucharest.
Georgiana Manuela has been widely reported to be Andrew Tate's girlfriend.
The four suspects have been detained for months over allegations of human trafficking, rape and forming a criminal gang to sexually exploit women.
They have denied all the accusations.
Andrew Tate's communications director, Mateea Petrescu, told Sky News: "They are not a flight risk and they are not a danger to public safety, therefore [the authorities] have decided to release them under house arrest.
The agency said victims were lured with pretences of love and later intimidated, placed under surveillance and subjected to other control tactics while being coerced into engaging in pornographic acts for the financial gain of the crime group.
Romanian authorities said they had seized goods and money worth almost £3.25m from the controversial influencer's villa, including luxury cars.
Tate is banned from Instagram, Facebook and YouTube for violating rules on "dangerous individuals" and breaching hate speech rules. He was blocked from Twitter in 2017, but allowed back in November 2022.